At the intersection of Saint Catherine Street and Bishop Street in downtown Montreal, it was hard to miss the group of police officers, standing outside the station, watching for jaywalkers. But the first thing you noticed was not the badges or the guns, but their fluorescent camouflage-print trousers.
This was not the official uniform of Montreal's 4,600-person strong police force, the Service de Police de la Ville de Montréal, or SPVM. Since July 2014 most officers have worn colourful trousers in protest against stagnant pay and proposed cuts to their pensions, over which they had been locked in a lengthy dispute with city hall. They said that since they had no right to strike, wearing camo-print trousers was the only way to express their unhappiness.
To tourists' bemusement and the indifference of most Montrealers, cops sported an array of styles, ranging from hot-pink camouflage cargo pants (knee-length in the summer) and leopard-print leggings to white baseball-style tights and checkered clown trousers.
The unconventional attire had led some members of the public to doubt whether they were actually police officers. In July last year, a driver from Laval in Quebec had a C$1,293 fine for dangerous driving thrown out of court after successfully arguing that he did not know the woman wearing camouflage pants attempting to pull him over was a member of law enforcement.
"The confusion, in certain cases, could be very serious," said the Québécois public security minister Martin Coiteux shortly after the ruling. "Are you dealing with a police officer, or someone else?"
A bill introduced by Coiteux in April to make wearing a uniform mandatory among on-duty police officers was passed into law in October. But by that point the non-compliant pants protest had already concluded following an intensive round of bargaining between the city and the police union in June. It had gone on for the best part of three years.
That it went on for so long is true to the spirit of Montreal, where French revolutionary tradition meets militarised North American-style policing. The bilingual city is known to embrace protests at a far faster rate than they are declared illegal, in spite of winter temperatures reaching below -20C.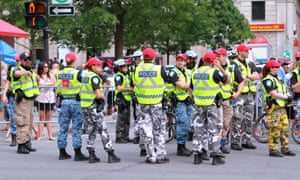 Marginalised groups are often seen marching; trade union and student movements' stickers adorn walls that might be papered with advertisements elsewhere; cheap rents and relatively low tuition fees make for a diverse populace. Montrealers are accustomed to highly visible and often idiosyncratic battles against austerity and injustice, and police officers are not exempt.
The police union feared proposed changes to municipal pension plans would cost officers an average of $6,000 a year each – almost a 10th of their salary. Such was its animosity towards ex-mayor Denis Coderre that the union paid for billboards showing him wearing a party hat and holding a party popper beneath the tagline: "A mayor who shows contempt for his police officers for three years must be celebrated."
Union members refused to sign new contracts for two years, and plastered their cars – as well as buses and walls – with stickers demanding "libre négo", the right to negotiate. Plus they forked out for their own statement trousers.
On 17 May this year, half the force marched to the Jacques-Cartier bridge to disrupt the opening celebrations of Montreal's 375th anniversary, holding flashlights aloft and sounding whistles and horns in an effort to spoil the $39.5-million fireworks display.
The following month, the city resolved to take part in an intensive round of bargaining, and the union asked officers to pause their protest and wear their regular uniforms in a show of good faith.
In one of his final acts as mayor, Coderre made peace with the force, enshrining a cumulative salary increase of 20.75% over the next seven years to mitigate the greater contributions to their pensions they will be expected to make.
Deep fissures remain in the relationship between lawmakers and law enforcers, with the new mayor Valérie Plante overseeing a year-long suspension of the police chief, Philippe Pichet, amid allegations of corruption.
But the hasty passage of Bill 133 into law means that this colourful chapter in Montreal's history of police protests has seemingly come to a close. Should officers dare to deck out in camo again, they will incur fines of $500 to $3,000 a day.